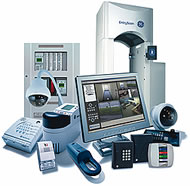 Through professionalism and strong client focus, Riverside Integrated Systems has grown into one of West Michigan's most respected life safety integrators with a talented team of professionals dedicated to fire, security, and communications systems and integrations.
But there's more to who we are. We are partnered with a global powerhouse in the life safety and integration arena UTC Fire & Security. Our partnership is deeper than a distributor of their products to our customer base. Our partnership with UTC Fire & Security includes a formal agreement and commitment in each of their three core areas of fire, security, and communications making us one of only a very select group of integrators nationwide to have achieved the very highest level of UTC Fire & Security business relationships.
For our clients this means local Riverside professionals serve your needs with the backing of the research and development, technical support, innovations, training, expertise, and worldwide resources of UTC Fire & Security behind us.
Riverside's local technical, engineering, sales, and field operations professionals are eager to put their knowledge and expertise to work for you on your next fire, security, or communications project. This company web site is a summary of the many facets of Riverside, who we are, and what we have to offer.
We look forward to serving you.